The airwaves are plastered with news and concerns about COVID-19. But what do we really know? And why are there so many mass cancellations and closures of the services we rely upon? Is it an over-reaction?
Here's a view on what we do know, with some key resources, in a situation that has many uncertainties.
COVID-19 is spreading in the United States in a way that is not well understood. Due to poor testing, there is limited data to model the future of the outbreak.

We are currently seeing a

flattening of cases across the United States

, even as more and more testing comes online. The expansion in testing is a good thing, as it's allowing the exposure that already exists to become known, quantified and better managed by state and local health professionals. Whether the incidence rate remains flat, declines, or accelerates again, is not known.

Even in the countries with the worst COVID-19 outbreaks, and lots of testing, such as in Italy and South Korea, total cases are less than 6,000 per 1 million people, with roughly 80% of those cases identified as mild. Check this out here on the last column to the right of the Confirmed Cases chart.

The risk to any one of us, as an individual, even among those that are older or have compromised immunity or travel on an airplane, is quite low. The exact opposite, however, is true for local populations: the risk is high. Why? A rapid increase in cases can exceed the capacity of any given community's health system. That capacity is made up of 1) staffing, 2) supplies, and 3) beds. In a near-term acceleration of demand, staffing is under the most immediate pressure (i.e., the least able to be rapidly increased), supplies second, and beds third.

The primary public health strategy to lower the risk of overwhelming health system capacity is to attempt to "flatten the curve" to decelerate the spread of this virus. By doing so, the risk to a local population is reduced, for two reasons. One, there is greater capacity for health systems in that locale to attend to those individuals with this disease, as well as health care issues unrelated to the disease. Two, it buys time for the possibility of an effective vaccine and other treatments to come online.

So, all the aggressive "protective measures" we are experiencing to cancel, delay, and limit gatherings of people (from school closures to quarantines to conference cancellations to travel restrictions to shelter-in-place have a very practical and deliberate purpose.

As the curve is now flattened in the United States, the next challenge will be to resume something closer to normal mobility without a resurgence in cases.

As compared with flu and cold, you should know that the hallmark symptoms of this disease are primarily fever and dry cough, and rarely a runny nose, as you can see here: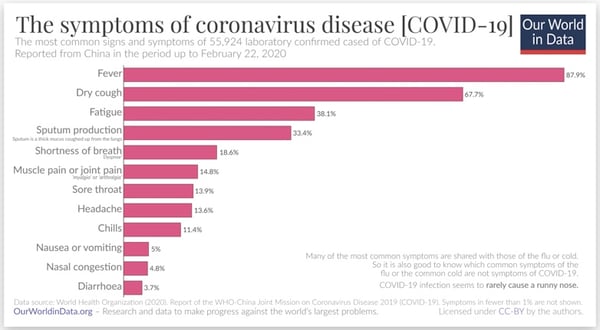 And, finally, the single best measure you can take to protect yourself from this virus is to no-kidding-around wash your hands frequently with soap and water: soap actually dissolves the outer fatty layer of the coronavirus. And no-kidding-around don't touch your face: the virus only takes hold if it gets in your mouth or nose, which are pathways to your lungs and respiratory system. Wash your hands thoroughly: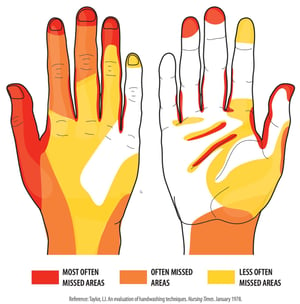 If you are looking for more perspective in these uncharted days and weeks ahead, here are two of our favorite educational videos on COVID-19. Each one is equal parts informative and calming.
And, even better, the Irish perspective with the hard, cold facts, but with a soothing lilt (roughly 13 minutes)
Sending a warm elbow tap to you and yours as we all grapple with this challenging time.
Cathy and the Health Hippo team